Posts Tagged fantasy romance
Before I get into tonight's review, I'd like to offer an apology. The last month or so, I've been working hard at other things (namely writing and editing), so I haven't been able to do much in the way of reviewing.
That said, I hope that long-time readers of Shiny Book Review will enjoy the last week-plus of December, as I plan to review at least three more books before the end of the year.
Now, onto tonight's review!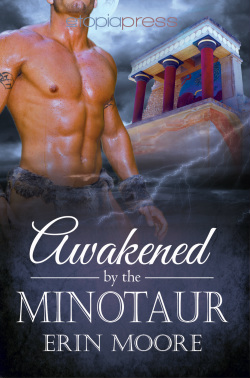 Erin Moore's AWAKENED BY THE MINOTAUR is a fun, steamy novella set on the island of Crete. Lara Castille, a woman from North Carolina, has gone to Crete in search of adventure — or, if she's honest, in search of a hot young man to spend some time with (and not just for his assistance in checking out the local ruins). She meets Theseus "Teo" Poulos — her guide and driver — and is immediately attracted, but as in most contemporary romances, Lara does not get down and dirty with him right away.
Even though Ms. Moore's novella is unabashedly an erotic romance, there are still some romantic conventions that must needs be followed. So Lara goes to dinner with Teo, makes out with him, and then wants to get down to business…
Only for him to walk away.
Why? Well, it has to do with the "minotaur" part of the title. Teo, you see, is a shapeshifter; at certain phases of the moon, he shifts into a minotaur. And as a minotaur, it's rumored that he killed his previous girlfriend, something Teo can't really deny because Teo doesn't truly remember what he does in minotaur form.
So Teo is deeply attracted to Lara, and she feels the same way about him. But Teo feels he cannot do anything with Lara — not because she's a tourist (though that doesn't exactly help), but because he's a shapeshifter and she isn't.
Anyway, Teo leaves Lara sitting in the restaurant he'd brought her to, all hot and bothered. She has several shots of ouzo, and quickly becomes drunk. She then gets lost trying to find her way back to the "pension" (where she's staying), and stumbles upon, of all things, an outdoor orgy.
Now, Lara is a good girl. She's never been into orgies. But everything feels dreamlike, and she's somehow pulled to the man/minotaur. She's fascinated rather than repelled, and as you might expect in an erotic novella, has herself one whale of a good time.
Of course, the morning after is a mess as they don't wake up with one another, so they have no idea what truly happened. Worse, Teo doesn't remember who he slept with while he was in the form of the minotaur, so he's awkward with Lara (he truly wants to be with her, but is carrying all of the same baggage as before). Meanwhile, Lara clearly remembers sleeping with the minotaur, but doesn't know who he was. So she's awkward with Teo, because he's the guy she truly wants to be with…besides, even though she doesn't owe Teo anything, she's not sure she should be so pleased she succumbed to the minotaur in that precise way.
At any rate, what will Teo do once he realizes Lara was the one he slept with? And what will Lara do once she realizes Teo is the shapeshifter? (Further reviewer sayeth not, but do remember that this is a romance, OK?)
Sometimes reducing a story to its basic plot makes it sound far less plausible and far less fun than it actually is. And such is the case with AWAKENED BY THE MINOTAUR. I enjoyed this little novella, and believed in the "shapeshifter with a haunted past" twist.
Simply put, AWAKENED BY THE MINOTAUR is a fun, fast, steamy, R-rated read with a strong story underlying all of the sex. (Which, by the way, was only between two people. Lara may have witnessed the orgy, but she only had sex with Teo.) Lara's been unlucky in love and been looking in the wrong places, while Teo thought because of his shapeshifting ability that he'd never in a million years be able to find someone who'd love him for who he is.
And in the nature of all good romances, erotic or not, they find out that they're both wrong.
Along the way, there's a healthy dose of scenic, sunny Crete, there's some interesting and plausible mythology thrown in there, and a nice fantasy twist that held my interest through several re-reads. (Only to make sure I caught everything…a reviewer must be thorough, after all!)
Bottom line? AWAKENED BY THE MINOTAUR will entrance you providing you enjoy fantasy romance and can handle an R-rated plotline and extremely frank, sexual language. I enjoyed this novella immensely, and look forward to more work by Ms. Moore.
Grade: A.
–reviewed by Barb
Michaele Jordan's debut novel, MIRROR MAZE, is a Victorian-era fantasy romance featuring three main characters: Livia Aram, Jacob Aldridge, and Jacob's sister, Cecily Beckford.  At the start of MIRROR MAZE, Jacob is grieving hard over the loss of his fiancée, Rhoda Carothers; she was American, beautiful, and understood Jacob in a way he had never before known.  In fact, Jacob's grief is so intense that he's nearly lost himself.
Cecily, of course, is very worried about her brother, but not entirely for the reasons you'd expect.  You see, their father was a well-known magician who had many enemies; she believes that a succubus has entranced Jacob for just that reason.  And she goes to another magician, Dr. Chang, to figure out just how to get rid of whatever is bothering her brother.
But then, the plot thickens a bit more; Dr. Chang's ward is the aforementioned third main character, Livia Aram.  And Livia looks just like the deceased Rhoda; this causes Jacob to become more than a little unhinged.  This is why Chang tries initially to keep Livia away from Jacob, but of course it doesn't work.
With Chang's help, the succubus-like demon loses the initial battle against Jacob.  But that's certainly not the only trick in this particular demon's arsenal, which is why Cecily becomes the demon's next victim.  Only the appearance of her long-lost, presumed dead husband Colonel Oliver Beckford ends up saving her, because during Beckford's travels, he's learned a type of magic the demon who's entrapped Cecily cannot match.
The plot thickens further when, to save Cecily, Col. Beckford ends up using Chang as bait because he believes Chang was negligent in allowing the demon freedom because Chang actually had a mirror that he could've used to stop the whole thing.  So Chang ends up where Jacob and Cecily were before: a type of mirrored maze, which is a reflection of the magical space in which he's been entrapped more so than just the fact that a mirror will allow a personality like the demon — or, as we find out, Rhoda Carothers (whose body is gone but spirit is still brightly alive) — to "come out" and interact with the living, breathing, physical world.
Of course, Rhoda loves Jacob and would never hurt him, but will Col. Beckford, who's definitely down on the whole "mirror maze" concept, allow this?  And why is Chang's mother, yet another famous magician, involved in this story at all?  These are just some of the questions the incredibly convoluted, yet extremely readable MIRROR MAZE asks — and answers.
MIRROR MAZE is told in the form of four interlocked stories of unequal length.  This unusual form works to its advantage, however, in that we get to know the motivations, and some internal monologue, from just about every important minor or major character.
The pluses of MIRROR MAZE are legion: the writing is excellent, the historicity is excellent (Ms. Jordan evokes the Victorian era as if she's lived there all her life), the different magical systems being shown are unusual, powerful, and pack a mighty wallop.  And the characters, odd as they can be (Col. Beckwith in particular was someone I really didn't like nor identify with, in that his only seemingly redeeming quality is his enduring love for Cecily despite his long absence), make sense in the context of this novel.  And there were no real weaknesses to be seen; everything works, the plot is concluded in a satisfactory fashion, and despite the grimness of the tone at times, happy endings abound.
I truly enjoyed Jordan's novel, even though it's a bit darker than I'd initially expected; I'd definitely call it "dark fantasy."  The romances being depicted (between Jacob and Livia, Cecily and Col. Beckwith, and others) are realistic and adult (the promotional material enclosed with this novel by Pyr Books called this an "erotic fantasy romance" and they're not kidding).  And the complexity of the over-arching form just adds to the richness and depth of this highly readable, hugely enjoyable novel.
So what are you waiting for?  MIRROR MAZE is available now, in trade paperback; go grab a copy and get to reading already!
Grade: A-plus.
— reviewed by Barb
Theresa Meyers' THE HUNTER is book one of "The Legend Chronicles," and is a steampunk Western fantasy romance.  (Say that five times fast.)  Here we meet Colt Jackson, a Hunter of the Darkin (demons, vampires, shapeshifters, etc.), and succubus Lilly Arliss.  Lilly is a kind and gentle-hearted succubus, which she does her best to conceal (supposedly, she's a demon like any other), while Colt is your average clueless workaholic guy, albeit one transported to 1883 and with the looks and musculature of a young Adonis.  As this is both a Western and a steampunk fantasy romance, Colt's horse is mechanical and powered by steam, and much of the action happens in the Arizona Territory.
The plot mostly revolves around Colt and his two brothers, Remington ("Remy") and Winchester ("Winn"), finding the three far-flung copies of "the Book," which if reunited should prevent Hell from taking over the Earth.  There's some urgency here because of how many Hellish creatures have managed to cross over in recent months.
One of the first things Colt does in THE HUNTER is to summon a demon from Hell to aid him in trying to recover part of "the Book." This is because his brother Winn believes that a demon is required even to find where their father's copy of his part of "the Book" is.  Colt expects to summon a monstrosity, but instead gets Lilly, and of course is immediately and carnally attracted to her.
Lilly and Colt have adventures, most of which reminded me of the movie "Indiana Jones and the Temple of Doom" more than anything resembling most steampunk novels; they also try to keep their hands off each other because Lilly is a succubus and once she sleeps with Colt, she'll have to take his soul.  Both of them know this, but they're still irresistibly attracted to one another.  This proves nearly impossible, which keeps the sexual tension — and awareness of one another — high.
There's a worse danger than Colt losing his soul to Lilly, though; it's losing his soul to Lilly's demonic overlord, an Archdemon named Rathe.  (Nice re-spelling of the word "wrath" there.)  Lilly's doing this job mostly because she wants to once again be a human being, as she only became a demon to keep her sister from having to become a prostitute.  But part of why she's the one Colt ended up summoning is because Rathe wanted it that way; Rathe believes Lilly is the one to bring Colt, one of "the Chosen" Jackson brothers, down.
Colt, of course, wants Lilly to become human again for a very different reason: he wants to sleep with her.  He romanticizes this by saying that Lilly is the one woman (er, female creature) he's ever wanted to be with more than once; because of his romantic notions, he vows to Lilly that he'll help her do anything she can to regain her humanity, or die in the attempt.
So, will Rathe get his way and get "the Book?"  Or will Colt and Lilly not only foil Rathe, but find a way to stay together?  (Hint, hint: it wouldn't be a good paranormal romance if they didn't.)
The steampunk here is well-conceived; even the more far-out bits, such as Lilly and Colt's adventures on the way to get "the Book" (where they go through a sequence of caverns where they have to avoid being shot, having acid flung on them, or being decapitated), are plausible within the steampunk genre.  There also is a rather nifty scientist fellow named Marley Turlock, who created all sorts of futuristic things that Colt uses to destroy the worst of the Darkin, and I really enjoyed and appreciated his character no end.
That said, the romance here was lacking for many, many reasons.  Here are just a few.
1) Lilly and Colt are both described as drop-dead gorgeous (well, Colt's described as "man candy," which seems pretty similar to me), so it's hard to root for either one of them.
2) Lilly is a succubus, so no matter how tender-hearted she is, if she sleeps with Colt, she's going to have to take his soul.  This is why for the first three-quarters of this book, they do not sleep together.  The point is made over and over again by Meyers that Lilly doesn't have a choice in the matter; if you sleep with a succubus, you're going to lose your soul.  The end.
Yet when the "big moment" finally arrives, guess what?  Colt's soul is still intact! 
This is a major plothole, because either Lilly can choose to take Colt's soul, or she can't. 
3)  Still on that subject, consider this: up until they actually "do the dirty deed," Lilly believes it's not a choice.  Then, because the plot demanded it, Lilly suddenly could choose not to take Colt's soul if she slept with him.
This is what is called a "deus ex machina" plot device.  It cheats the reader.  It weakens the story.  And it was completely unnecessary, as the next part of the book demanded that Colt go to Hell anyway in order for him to try to help Lilly.
And, finally . . . 4) Colt goes from hating all the Darkin, even the well-intended ones like the shapeshifters (who are not demons and do not have to do evil) and vampires (who need humans because humans are the vamps' main food source), to appreciating them far too quickly and easily because of his liaison with Lilly.  While romance can and often does change a person's point of view, Colt's mostly thinking with his nether regions during this novel and surely isn't doing any of the work on himself (the introspection needed) which would promote such a change.
So here's the deal with THE HUNTER, folks; it's a good steampunk paranormal in many ways.  It's inventive.  It's fast-paced.  It has moments of humor.  And it held my interest until the very end.
But the drawbacks are fairly significant because this book includes that dreaded deus ex machina plot device, something that was not only unnecessary, but pointless.  The romance is just too easy between these two; worse yet, I didn't like Colt overmuch because I felt him too impulsive on the one hand while lacking brains on the other.  And while I did like Lilly, and wanted her to regain her humanity, I kept wishing that someone other than Colt was the putative hero of the story because I kept thinking she was worth a lot more than Colt Jackson.
This makes grading this novel extraordinarily difficult; while this is an inventive book filled with heroic deeds, the fact that this is supposed to be a romance really doesn't sit well with me due to all the reasons listed above.
That said, it's worth buying in paperback if you really enjoy steampunk or if you don't expect much out of your male romantic leads other than a whole lot of testosterone — and nothing else.
Grade: a very generous B-, mostly because the invention should be praised even though the romantic male lead is sorely lacking. 
— reviewed by Barb